Eulogy of Sr Cotilda
News / by Tarbes Sisters

Everyone who lives and believes in me will never die. Jn11:26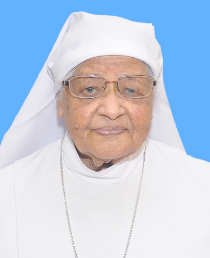 Good Morning and welcome to this celebration of life of Sr Mary Clotilda Anthoniappa.   We, the Sisters of St Joseph of Tarbes, welcome in particular the nieces and nephews and the family members of Sr. Clotilda to be part of the last journey of sister's earthly life. We thank the Lord for the gift of 103 years of her earthly life, and 80 years of fruitful life as a Sister of St Joseph of Tarbes. She is an icon and a legend to have lived for these many years in the history of not only in Bangalore province but in the entire Institute.
Sr Mary Clotilda was the 2nd child of Mr Anthoniappa and Mrs Chowramma, born in the year 1919, in Bangalore, Karnataka. She had an older sister and 5 younger sisters. She loved her sisters and their families and prayed for them constantly. They loved her a lot and visited her very often.
She joined the convent in the year 1940 and made her first profession in1942 and final commitment in the year 1948.
In St. Matthew's Gospel we read: "No one lights a lamp and put it under a basket, but on a stand, where it gives light to everyone in the house. In the same way, let your light shine before others, so that they may see your good works and give glory to your Father in Heaven." That is exactly who Sr. Clotilda was. A light that drew and empowered students, friends and colleagues. Sr. Clotilda had a generosity of heart that embraced 'challenges as opportunities'- welcomed successes and dealt failures with audacity and the spirit of surrender. Her life was marked with an uncompromising obedience to the will of God and was manifested in her total availability to do anything that is asked of her for the greater good of the province. Her faith in and respect for the authority was commendable. During summer holidays when the juniors had the month of Juniorate, she would willingly go to the provincial to volunteer to be sent to any communities to replace the juniors and offer her services. She also volunteered to give her services in our Mother house at France. Such was her generosity born of selflessness.
Her pioneering spirit and missionary zeal made her to be a pioneer in a few new foundations like Chickballapur, Gundibala, and Sumanahalli. In every situation she was gracious and had a delightful sense of humor. For 39 years she taught in different schools, at Whitefield, Champion Reefs, Robertsonpet, Koppa, Coonoor, Chickballapur and Gundibala inspiring the students to be kind and humble yet confident and courageous. She was the 1 st animator of Nava Jeevan community for 12 long years. She also animated the community of Mysore for two years. She was a boarding mistress in Champion reefs, RTC and SFX boys boarding. She took care of them like a mother taking care of their education, health and cleanliness. She encouraged the students to share whatever they had to those in need. She taught them the value of sharing. From 1988 to 2007 she rendered her service in teaching catechism, church work, caring for the elderly, mending linen and also teaching Kannada for SFX students. From 2007 to 2022 she was the member of Divya Jyothi community, ardently following the community programme.
For Sr Clotilda the Holy Eucharist was the essence and center of her life. She would forgo food and physical needs but not the Eucharist. Whenever sisters went to visit her, she would enquire the sister, if there was a mass and if she could participate in the Holy Eucharist. Till the end she never missed the Eucharistic celebration. Such was the love she had for Jesus in the Eucharist. Her desire to receive the Eucharist inspires all of us.
In her, we the sisters and the people could find a loving mother, a caring sister, always available, ever cheerful, prayerful, calm, composed, obedient and assertive at times. She was very sensitive and humble to apologise for any offense or hurt she had caused. She would never go to bed without asking pardon from the concerned sister with whom she needed to get reconciled. She was interested in serving the church, the people, very especially the little children. Sister was deeply compassionate and concerned about the poor, sick and the suffering.
She exhibited an unwavering trust in the help we can receive from St Joseph our Patron. She would often narrate her dreams of seeing St Joseph watching over the sisters and the novices, protecting them from harm and danger. How fortunate sister was to be called to the Lord on the day dedicated to St Joseph.
She would be often found in chapel praying, and sits at the entrance to this house gazing at our lady and reciting the rosary. She breathed her last while the sisters were singing a hymn to our lady and praying the rosary yesterday on 9th November. It looked as if Mother Mary and St. Joseph came to receive her Soul. We are indeed blessed to have had such a saintly sister among us.
"A life well lived is a precious gift of hope and strength and grace,
from someone who has made our world a brighter, better place.
A life well lived is a legacy, of joy, pride and pleasure,
a living and lasting memory, our hearts will treasure."
So go and run free with the angels,
for the Lord has chosen you to be with him and we should feel nothing but proud.
Your memory will never escape us but make us glad for the time we cherished our togetherness.
Your face will always be hidden deep inside our hearts, each precious moment you gave us shall never ever depart.
Dear Sr Clotilda it is fitting therefore that God generously allowed you to live among us for almost 103 years. We are very grateful to God for the gift of your life with us. Now that you are rewarded for the fruitful life you lived, enjoy your eternal bliss. Good bye sister until we meet again in eternity.
Sad Demise of our Dear SR. MARY CLOTILDA - SJT