EULOGY OF Sr. Sylvia Christie
News / by Tarbes Sisters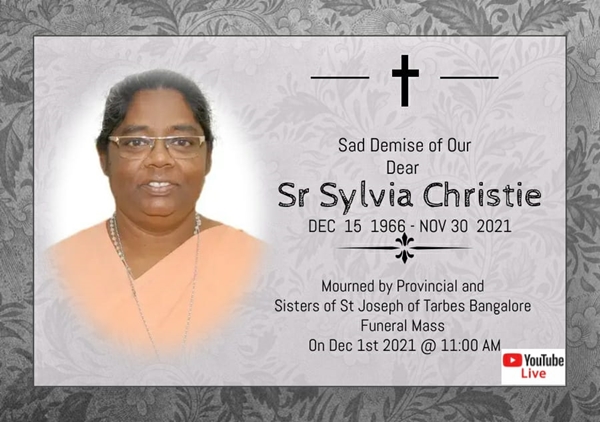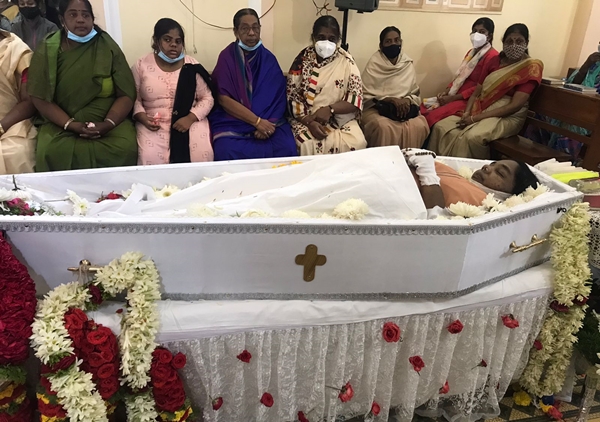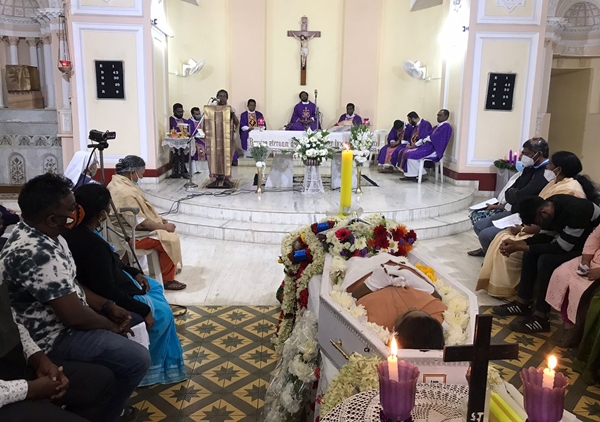 Sad Demise of our Dear Sr Sylvia Christie. (Click Here)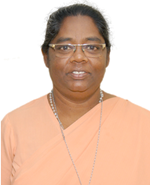 Dear Sr. Sylvia Christie ,
A light from our lives has gone
A voice we loved is still
A place is vacant in our hearts which never can be filled.
No one can really believe that you are gone.
Our hearts are broken, our spirits mourn
We know the angels held you as your body said good bye.

We, the sisters of St. Joseph of Tarbes, all the members of Sr Sylvia Christy's family, friends, staff and students, benefactors and all present here declare that you sister, indeed have played a big part in our lives, brought laughter and cheer in our hearts, today we are assured that, we have a beautiful angel up in heaven interceding for us.

The song is ended but the melody lingers on. This melody began in Kolar Gold Fields on 15 th December 1966. Sr. Sylvia is the eldest daughter of Late Mr. Henry Thomas and Mrs. Mangala Mary. She has two younger brothers and two younger sisters. She entered the Postulancy in the year 1986, made the first Profession in 1990 and her Final profession in Kenya along with one of the Kenyan sisters in the year 1996.

She began her community life in 1990 in Mayapur, North of India, as her first community, from 1991 to 1993 she taught at Vile Parle, Mumbai. Her zeal and enthusiasm led her to volunteer as a missionary in Kenya. From 1993 to 1994 she was teaching in Nairobi in the K.G section. She took up vocation promotion in the year 1994 to 1996 in Embu. From the year 1996 to 2005 she was appointed as formator for different stages of formation as Candidates, Postulants and as Novice Mistress. She used her God given talents and creativity to mould and enrich the lives of the formees and the sisters. Her generous and selfless contribution to the community was manifested in carrying out her responsibilities big or small with utmost love and care. The sisters have witnessed her compassionate and caring heart towards the poor and the needy.

In the year 2005 she returned to India and was placed in Shimoga as a teacher, later she humbly accepted to take charge of the main kitchen in Bangalore as a member of Shanthi Nilaya community. She was transferred to Vashi for three years as the Head Mistress of Lower primary School. She rendered her service for two years in Whitefield as a Head Mistress of English Medium school. In the year 2012, she was commissioned to take charge of the English Medium School at Champion Reefs till 2015. Then she was asked to take up as Headmistress of Holy Angles' Higher Primary school and she belonged to Divya Jyothi community.

Here I share the sentiments of the staff of Holy Angels' School:
God is a perfect God, so He chooses the perfect.

Sr. Sylvia Christie is a chosen child of God. She is hand-picked by God from the multitudes, to be His daughter. Today He has chosen to take this child of his to be in his arms. Sr Sylvia Christie true to her name carried all the qualities of Christ, letting people know she is the child of God. Her most admirable quality is compassion. Though she had a very strong personality, her heart went towards the needy and the poor with tenderness filled with love. Her smile had brought joy into many lives. Her support had given strength to most of the people she met. She had been a pillar of strength to many families to stand firm in times of difficulties and have hope in God. She had been like a potter molding each teacher to be the best in the field of education. As an educator she inculcated the values of love of God and neighbor very concretely in her dealings with the staff and students. She had been a great inspiration, a good advisor, a mentor, a genuine and God fearing person who loved the children more than herself. She was a rare gem and a great administrator to whom others could refer and approach in times of need and become an example. She always fostered communion through forgiveness and reconciliation. As a family of Holy Angels' while we had seen her as a Principal, she was our friend, colleague and our own sister who would patiently listen to our problems and gently advise us to trust in God. She had been everything to us.

Some of our sisters expressed their vivid memories of her as a strong community builder and she also shared valuable tips on animation. She fondly remembered her pastoral experiences in Kenya and often shared with the sisters, encouraging us to be passionate in our life as a missionary.

In the journey of her life she encountered many challenges and sufferings but she embraced all of them with undaunted faith in God and courage. She shared with one of our sisters that the Rosary and the Cross are her strength, saying that "the Lord is my Shepherd; there is nothing I shall want". She surrendered her life to the Lord and was prepared to glorify God in everything that took place in her life.

Dear Sr. Sylvia you are gone to the eternal abode of God our Father. We thank you for what you have been to all of us. You made the broken look beautiful and strong with resilience, you walked with the universe on your shoulders and made it look like of pair of wings. Your absence will be felt around us. You have accumulated true wealth in heaven by doing good to others and sharing your love.

We are grateful to you for your unfailing love to our Province and your selfless service to fulfill God's mission. Your are our loving sister forever. We love you and salute you for your journey with us. We bid you farewell with a heavy heart and tears. We will miss you deeply and you will be always remembered by us, your family, and your own sisters of St Joseph of Tarbes.