"Global Novena to St Joseph"
News / by Tarbes Sisters
We were invited on behalf of "Thalir Capuchin Centre, in India", information about the forthcoming online programmes from the Centre. And to make the best use of every programme. These programmes were totally free for participants from African Countries. All Religious and Lay person were free to attend this programmes. By Br. Nithiya OFM.Cap, Director, Thalir Centre, Villupuram, India mailtothalir@gmail.com.

It gave us a sense of belongingness to the Institute, where all the Provinces / Region were able to participate and were united in prayer through this streaming "Global Novena to St Joseph" and interceding his blessings for the Church, for our families, for each of us and for the entire world. Our sisters from Bangalore Province sang the praises of the Triune God for the Patron of St Joseph.

Dear St Joseph, you felt the tribulation and worry of a parent when the child Jesus was lost. Protect our families for time and eternity. May you be our father and counselor. Let all children, like Jesus grow in age as well as in wisdom and grace before God. Preserve our families from the corruption of this world, and give us the grace one day to be united with them in heaven forever. Amen.

Wishing each of you dear sisters a very Happy Feast of our dear Patron St Joseph.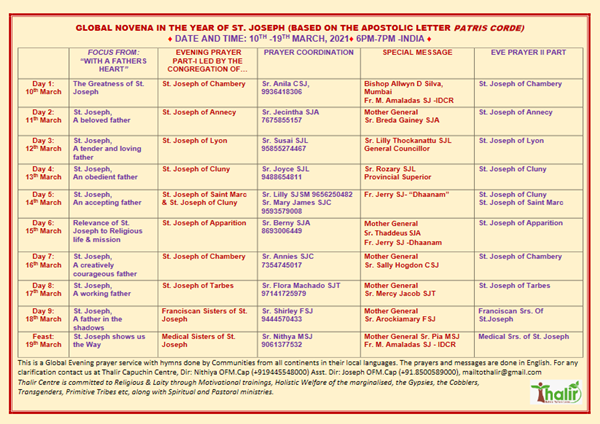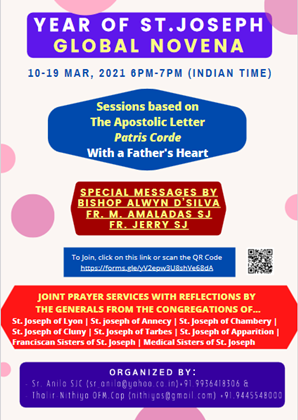 RECENT NEWS
Global Novena to St Joseph
Aikyatha Volume 17 No: 4 Jan- March 2021
First Profession on 2nd Feburary 2021
Diamond and Silver Jubilee on 30th January 2021
Eulogy of Sr. Felicity 18th Jan 2021
Aikyatha Vol.17 No.3 Oct to Dec 2020
Webinar for On Going Formation October 9-10, 2020
NEP Webinar September 22-23, 2020
Aikyatha Vol.17 No.1 July to sept 2020
Webinar for On Going Formation October 9-10, 2020
NEP Webinar September 22-23, 2020
Aikyatha Vol.17 No.1 July to sept 2020
Ongoing Formation Batches 1987-2002 September 12-13, 2020
Webinar on Understanding NEP 2020 September 10, 2020
Year of Preparation for Perpetual Vows September 02, 2020
Webinar session on NEP August 27, 2020
Aikyatha magazine July 25, 2020
Requiem Mass | Sr. Philomena Cardoza SJT July 13, 2020
Sad demise of Sr Philomena Cardoza on 11th July 2020
Call for Religious Life, Vocation Video Series #1, Archdiocese of Bangalore
Final Profession June 27, 2020
Silver, Gold and Diamond Jubilee Celebration of the Sisters on 4th Jan 2020
Conclusion of the Silver Jubilee Year May 31, 2018
24th May – First Profession May 24, 2018
Initiation into the Novitiate May 23, 2018
St. Joseph With Us November 7, 2017
Provincial Community Day November 9, 2017
Aikyatha November 28, 2015
The 16th Provincial Chapter November 23, 2015
The Canonical Visit November 23, 2015