Mourned by: Provincial and Sisters of St Joseph of Tarbes
News / by Tarbes Sisters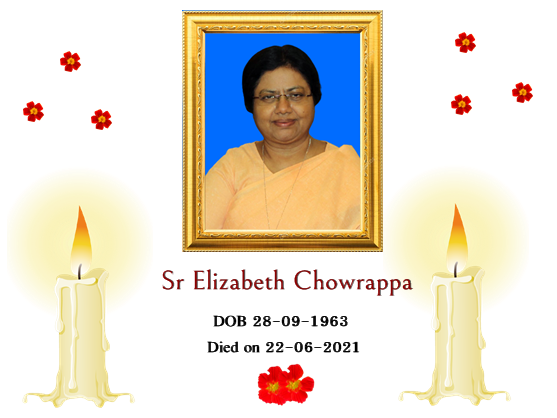 23.06.2021 | Funeral Service, Mass & Burial of Dr.Sr. Elizabeth CS
Eulogy of Sr. Elizabeth

The 22nd of June 2021 was a sad day that sent shock waves across the family of the sisters of St Joseph of Tarbes, the entire staff and student community, parents, friends, well-wishers, benefactors and Alumni of Jyoti Nivas College, and in particular to every member of C R Chowrappa's loving family who are indeed deeply pained and shattered by this harsh reality about our dear sister Elizabeth.

Ever since May 3rd 2021 till yesterday the 22nd of June the 50 days of Medical interventions in Sakra hospital enabled us to realize that she did fight a good fight with the strength of the Lord against all the challenges that COVID 19 posed on her health. Sr Elizabeth withstood all the trials only to prove at the end that all her strivings were meant to make that complete surrender to the Lord to fulfil His will for her.

Indeed, just as our Lord Jesus Christ said "The one who believes in me will live even though they die. " It is with the strength of His words that we are able to gain courage even in this hour of pain and utter despair that is heart breaking. Everything seems so surreal that we are just not able to come to terms with the reality that our dearest sister Elizabeth has left us drowning in deep sorrow.

Sr. Elizabeth our Eliz as some of us called her was a brilliant lamp that has been snuffed out too early. She was born on 28th September 1963 in a large and lovely Family along with three brothers and six sisters to Mr. Chowrappa and Mrs. Theresamma, who belonged to St. Francis Xavier Parish Chikballapur. This is a lively, spiritual, united above all a devout Catholic family which has offered two religious sisters to the church. Sr Prasana who is present here with us now and Sr Elizabeth.

Sr. Elizabeth joined us the Society of Sisters of St. Joseph of Tarbes at a tender age after her SSLC. Her first profession of Religious vows was in 1983 and her perpetual profession in 1990. From 1983 to 1986 she served in the Bowring hospital.

This blazingly gifted sister nurtured by our Congregation completed her under graduation in Jyoti Nivas College and post graduation and doctoral research in Bangalore University.

She began her ministry of Education at Jyoti Nivas in the year 1992. The Congregation entrusted her with the responsibility of the Principalship in the year 2000. She was the First Principal of the bifurcated Jyoti Nivas Pre University College which functioned as one unit until 2000. In 2005 she moved to the Jyoti Nivas Degree College. And from 2010 till now 2021 she was the Principal of the Jyoti Nivas College Autonomous. Additionally she has served us as the Provincial Councilor and was elected as a delegate for the General Chapter, France for which she was preparing herself meticulously to the extent of learning the language.

No one who knows Sr. Elizabeth can deny the fact that she had an outstanding personality and was extra ordinarily talented. Her radiant smile, charm and humor dispelled all the dullness and brought about joy and laughter wherever she was present.

She had a beautiful voice and could sing divinely in any and many languages.

Unmatched eloquent speaker, prolific writer whose book was published very recently in April and some more books to be released in the pipeline.

Sr. Elizabeth accomplished things which were unreachable for most. Very able admistrator, she had changed the face of Jyoti Nivas. The elegant modern campus with a variety of facilities for the students is the result of her vision and it is her brain child. Her vivid creative streak and compassion conceived many innovative outreach programs. During Christmas time she brought the underprivileged to the campus.

A lot of programs began by her, have become traditions in Jyoti Nivas Campus. Sr. Elizabeth created History. She took personal interest in every program that happened on the campus, organized meticulously, and made everything unique, unforgettable and successful. No one could compete with her. She has made significant contributions to the Catholic Community of India as an office bearer in AIACHE (The All India Association for Higher Education), Xavier Board, CCCK ( The Conference of Catholic Colleges of Karnataka), and CCPI ( Conference Of Catholic Psychologists of India ).

She played an important part in the vertical growth of Jyoti Nivas. The Institution has scaled great heights and her role in it is undeniably big which can never ever be forgotten.

A short time isn't enough to enumerate the numerous BEAUTIFUL attributes of Sr. Elizabeth and her multidimensional achievements.

She was a rare and perfect combination of talents, Smartness and goodness with a passion for Excellence. She has indeed inspired, motivated and touched countless hearts along her illustrious journey on earth. She dreamed big, pioneered change, saw ways into the future.

A true visionary who showed us the way.

Awarded multiple times by distinguished bodies and forums as best principal and best administrator, she was our pride, our star, whom we are going to miss terribly.

In Addition to All the talents the good Lord had also blessed her with goodness of heart. The warmth she exuded, the kindness she possessed, the compassion she had, her bountiful generous nature, uninhibited compliments, the transparency of her feelings for others, the sweet ways in which she expressed gratitude even for the little things she received and a lot, lot more which we have experienced and enjoyed will be deeply cherished by us her sisters, and every member of her family present here.

She, our dearest Sr Elizabeth was a special one. While thanking the Lord for what we received through her, we realise her deep faith and trust in the Lord THAT accompanied her in all her endeavours. We cry out in pain at this sudden departure and bereavement But His ways are unfathomable and we surrender to His will. The Lord alone can comfort us during this grieving.

Beloved Sr. Elizabeth, surely you can see our weeping hearts. How can we ever get over the big void you have left behind, your voice, your sweet singing, your mirthful laughter, your mischievous smile and chatter, your warm touch above all your endearing presence. Every nook and corner of Jyoti Nivas will constantly remind us of your missing presence

We feel like asking why did you not give us a chance to say good bye.

Why did you leave us so suddenly?

But Sr. Elizabeth, we realize that you have not gone alone, you have taken parts of our hearts with you.

We are reminded of the words of St Paul in Romans chapter 14 verse 8, If we live we live for the Lord and if we die we die for the Lord. So whether we live or die we all belong to the Lord. Thank you for affirming each one of us today with this message.

Though you left us a bit too early we will carry you in our hearts and carry on till the Lord beckons us over to him just as He has beckoned you now. We all love you dearest Sr. Elizabeth. We will always cherish you and miss you. Sweet memories of you will linger on with us forever. You have become one with the Lord on His invitation. He is holding you safe and secure in great peace. Enjoy the Eternal peace with the Lord.

May the Lord bless you and us always through eternity.