Mourned by: Provincial and Sisters of St Joseph of Tarbes
News / by Tarbes Sisters Eulogy of Sr. Emilia D'Mello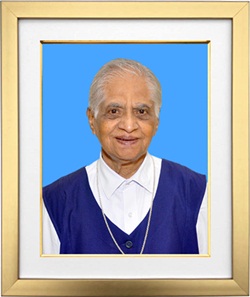 02.08.2021 | Funeral Mass of Sr Emilia D'mello | Sisters of St Joseph of Tarbes, Bangalore
To our beloved Sr. Emilia we say, we love you and recount the many blessings you are to us, the Sisters of St. Joseph of Tarbes and join with you and say - Great is Thy faithfullness O Lord my Father, Morning by morning new mercies I see, And all I have needed Thy hand hath provided,
Great is Thy faithfulness
O Lord unto me...
Yes indeed, The Lord who set His eyes on Sr. Emilia and called her to belong to Him gave her the experiences of His faithfulness in her life as a religious in the family of the Sisters of St. Joseph of Tarbes.

Sr. Emilia was the 6th child of Mr.and Mrs D'Mello, born on 12th December 1935. She has 1 older brother, 1 younger brother, 4 older sisters and 1 younger sister. She entered postulancy in the year 1957, first profession in 1960 and final profession in 1966.

Sr. Emilia was sent for studies from 1960 to 1966.
From 1967 to 1970 she was teaching at Mumbai.
1970 to 1974 worked as Headmistress at Chickmagular.
1974 to 1975 was in-charge of Education.
1975 to 1981 Headmistress of High School at Chitradurga.
1981 to 1988 RTC School,(Now St Joseph's High School) Bangalore as a teacher. She was the Animator of Prasan Niketan community.
1988 to 1993 at Champion Reefs as Headmistress.
1993 to 1995 she was at Chickballapur, Headmistress of Un-Aided School and the Animator of the community.
1995 to 1997, at Bangalore, Animator of Shanthi Nilaya community.
1997 to 2015, Sr Emilia was at Jyoti Nivas College as a Supervisor.

From 2015 till date, she belonged to Shanthi Nilaya community, Fraser Town. Even here she joyfully accepted whatever tasks assigned to her with great commitment and zeal.

We can write volumes about Sr.Emilia's precious life on earth for she lived and loved life and everything in it. She lived a very fulfilling and blessed life. This song fits here, blessed assurance, Jesus is mine O what a foretaste of glory divine and gave her very best and accomplished great things with perfect obedience and submission to the will of God through her superiors.

She loved, cared and respected all of us her sisters. She was also in turn loved, cared and respected by all with whom she lived and worked. She loved to be with people, enjoyed and celebreated life.

She was a Nature lover, had green hands, loved to spend time in the garden. She beautifully managed and looked after the entire garden and kept the campus green and clean. To the close nit family members, sister was a caring aunt and a loving sister. An adorable grandma for all the young ones.

Sr.Emila was an able administrator, excellent teacher, and a good orator. As a Principal she would take the staff for a relaxation and every one longed for it and this would be a great celebration. She was very pucntual, a disciplinarían, systematic, organised, methodical and orderly. She had a beautiful hand writing and maintained all records deligently and neatly. She knew the rules of the education so throughly. She was very firm but did it with love and concern for the person.

She was very active, alert and committed to the work undertaken. She priortised in such a way and gave importance to the concerns of religious life to such an extent that she lived an exemplary life. A very humble and kind hearted person always cheerful and caring.

"Truly I tell you, whatever you did, for one of the least of these brothers and sisters of mine, you did for me." Mt.25:40. This verse from the Bible, she loved the most, and lived it in her life. She was extremly charitable, the poor found a place in her heart, she would go out of her way to find benefactors to help the needy and the poor. Whoever came to her seeking for help never went empty handed. She would collect clothes and provisión to help the needy. She was never tired of helping the deserving.

She was a comfort to persons in distress and broken hearted. She listened to them with motherly love, affection and understanding. She would give useful solution to many of their problems as the staff would go to her for counsel and confide in her their problems and struggles.

As a senior memeber of the SJT family, she would send Christmas wishes to all our sisters, and well wishers and prayed everday for the needs of the world and for all those who needed prayers. So much so some of the priests called her as a ?praying machine'.

A very knowlegable and intelligent person who loved reading and was upto date with the news of the world. She had a good word for everyone, starting with the students, workers, their children and alumini and all who came to the campus. She would wait at the entrance of Jyoti Nivas College and welcome everyone with a smile. She blessed and prayed for everyone who came to her.

She was a prophetess of our time, she could not tolérate any injustice and differences shown to people, she would fiercly voice out her views and stand for the affected.

She loved young people and celebrated life in Jyoti Nivas campus, we could always see students around her, talking to her and happy to be in her company. She loved everything she did, and she did it with great love, care, joy and generosity. Sr. Emilia lived her life so gracefully that she was prepared to meet her Lord and Saviour at any time accordingly she left to the heavenly abode at 1 p.m. yesterday.

Recount of Sr. Emilia by staff of JNC. I have known Sister Emilia literally from my first moment in JNC; this is hardly an exaggeration because she is the first person you see before you enter the Principal's office to sign on your first day as a teacher in JNC. And that's how I met sister who welcomed me with her customary, ?hello dear!? After that I heard the same phrase for the next 19 years, and it was always spoken with the same warmth and sincerity when I had heard it for the first time.

Sister could be super amusing in the ways in which she enforced the codes of conduct of the college. No one can replace her perfect etching of our names and the lines she drew meticulously for us to remember our every moment in the college. The ink might have run out but not the pages which still speak of her inimitable love and compassion.

Sr. Emilia was an integral part of the JNC family for over 19 years. In a short span of time, she got to know all the people around her and established a personal bond with each of them.

Dressed in a spotless white habit, with a serene kind visage, Sister Emilia represented old world charm, grace and piety. A believer in discipline and rules, she judiciously balanced it with loving concern and sincere caring. She warmly interacted with all the students and staff as they wished her. Any responsibility given to her or task that she undertook was always meticulously executed.

Our dearest Sr Emilia, we thank the Lord for all that you have been to us. Thank you sister. Rest in PEACE dear sister. Heaven's angels now have a new angel amidst them welcoming every entrant with a ?hello dear? and a register that will be impeccably kept. Love you and will surely miss you dear sister Emilia.