Eulogy of Sr Jude
News / by Tarbes Sisters Whoever enters through me will be saved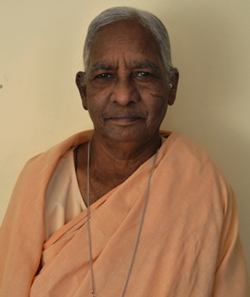 Funeral Mass of Sr Jude SJT
Sr. Jude is one such soul who has entered through Jesus the Way and is now saved for evermore, as she has said good bye to the world and entered into the blissful abode of God's love.

Sr. Jude was born on the 10th of September 1939 of Mr Arulappan and Mrs. Susai Mary at Thirupaththur, Tamil Nadu. She was baptized as Arockia Mary. She has five younger brothers and five younger sisters and settled in Robertsonpet, KGF.

On the 23 rd June, 1961, Sr. Jude entered the Congregation of the Sisters of St. Joseph of Tarbes as a Postulant and initiated into Novitiate on the 9 th January 1962. She made her first profession on 9th January 1964. Sister Jude made her Perpetual Profession on the 4th January 1970.

Sister Jude was a teacher by profession. She had completed SSLC and T.C.H before entering the convent and did Diploma in Community Health. Her first placement was at Coromandel where she taught from 1964 – 1977. Due to her love and interest for the poor and their upliftment, she withdrew herself from teaching and started doing social work from 1978 – 1979 in the same community. And continued her Social work in Ragadahalli Rural community from 1979 – 1982 and later from the year 1982 till 2015 that is 33 long years Sister Jude volunteered to journey with Sr. Celestine in Gollahalli in Sunanda project. Her last transfer was to Susaipalayam.

During her years, Sr. Jude always began the day with prayer. However early we get up in the morning, be it 3 O'clock, 4 O'clock or 5 O'clock, we would find her in the chapel praying and she never missed her morning adoration in the parish, whether winter or summer, rain or thunder , dark or bright, she will be there. She is the first one to enter the Church. Our Parish Priest always appreciated her for this. Sister never missed her community prayers and other community activities.

When we look at her life in the community, Sr Jude was known for her humility, charity, selfless service, and hard work. She was a mystic who was silent, contemplating the heart of God. She was like child in asking forgiveness from others unmindful of who did the mistake and was like a mother in loving, and forgiving unconditionally. She was a sister who cared for others, always waiting for the return of the sisters from the ministry. She was a grandmother when saying stories of the past, a good friend who encouraged, supported and was interested in our wellbeing.

Sr. Jude had a great passion for the mission entrusted to her. She along with Sr Celestine worked for the improvement of St Sebastian School at Coromandel, KGF and made it possible for the poor children to get education. Sister used to go around the villages, meet children, youth and adults for their faith formation and to empower them to come up in life. Being with the poor she chose to live a very simple life. She chose to live in a hut with minimum facilities to experience the life of the poor people in the village. They did not have civic amenities. Gunny bags served as curtains for the windows, no proper door and were left unlocked. In her Diary she has written "Poverty is Jesus for me". Sister accepted everything for the sake of Christ, and radiated the Joy of Poverty and simplicity. Joining with Sister Celestine, she dedicated her life in bringing drastic changes in the lives of the people. Sister Jude has walked miles and miles in order to reach out to the needy. She lived with the minimum and all that she had, she always shared with those in need. We rarely see her having money in the hand because she used to give to the people who come to see her. When she didn't have money in the hand, she would inspire others to help and she was not ashamed to do so.

Sr. Jude was an artist, was interested in craft works, and was very creative in making arathi plates, flower vase. She would even use the coconut shell, wood and stones to bring the best art out of it. Sister Jude was a best cook and joyfully cooked delicious meals and eatables for the sisters, priests, children and the volunteers. She was also a good singer and loved singing bhajans during adoration and during her visit to the Blessed Sacrament.

Age is not a barrier for a willing heart. Sister used to visit the houses in the village daily. She used to prepare some homemade medicines for sisters and patients - having sugar, cancer, cold, body pain etc. and she did it free of charge. She also was visiting the patients at Civil Hospital. Sister used to take adult Catechism for new converts and also marriage preparation. Sister prepared many couples for the rectification of their marriages, even during lockdown. Our Parish Priest, very much appreciates her service. We the sisters, the Parish Priest and the people really miss her presence in Susaipalyam, for she loved the poor and served them in whatever ways possible.

It was on the 12 th of July on her way to the Church very early in the morning when it was still dark, she slipped and fell and fractured her hip bone. She was operated and then was bedridden for five months.

Throughout her years she was in the midst of the poor. Even in her last days she wished that she could return to Susaipalyam and be with the people. But her health did not permit. She always wished that she dies on the day of St. Joseph as she had great devotion to St. Joseph but the Lord took her on the significant day, the day He was raised from the dead, that is on Sunday.

Dear Sr. Jude, you are our inspiration and model to live our life to the full. We have so much to learn from your life. Thank you dear Sister Jude for your life and dedicated service to the poor and the needy. Your life will always remain as a witness to all of us and to our society.

We truly believe that you are in the bosom of the loving Father and numbered among the Angels and Saints of God, singing His praise and so bid you farewell from this world to the heavenly abode that is prepared for you. We will surely meet you in heaven.

Goodbye dear Sr Jude.